| By yourself | | With Policywise |
| --- | --- | --- |
| Complicated fine print | — | Simple one-page summary |
| Guesswork & assumptions | — | Independent research & expert experience |
| Confusion & doubts | — | Clarity & assurance |
| Time-consuming hard work | — | Fast & easy |



Here's what our customers say about us
What do our customers think about our free service? Read unfiltered reviews below, from an independent, third-party website.
What is health insurance?
Health insurance is a type of cover that will protect you when an unexpected medical situation arises, or there are ongoing costs related to a health condition. It typically covers surgical, medical, diagnostic and other health-related expenses that come up when you're looking for answers or undergoing medical procedures.
Health insurers may either reimburse you for medical costs or pay the hospital or treatment provider directly.
Importantly, health insurance allows you to access private hospital treatment, so you won't need to go on a public hospital waiting list. It means that you have more treatment options and specialists to choose from.
Why should I get health insurance?
While New Zealand has a health system that covers emergencies, our access to non-emergency services is not as efficient or readily available. This includes tests, scans, elective surgeries and surgery for conditions not considered critical at the time.
In other words, if you don't have significant savings to tap into you might not have even seen your first specialist in the time it takes someone else to receive treatment privately. This is where health insurance that covers you for private surgery or non-funded medication costs is key to preventing delays in care or the range of treatment available to you.
Health cover should give you peace of mind in two main areas:
Much shorter waiting lists, and
Better treatment options.
And there are further benefits to customised health insurance beyond just those two.
1. Much shorter waiting lists
According to a survey by TNS research, waiting lists for elective surgeries at New Zealand's public hospitals average 304 days. Even before the pandemic affected our public health system, the number of people waiting over a year for life-improving surgeries was on the rise, and half of New Zealanders surveyed thought waiting lists would get even worse in the next 10 years. That's a reasonable concern – as New Zealand grows, hospitals will have to service more people, and as our population ages, treatment loads will increase. Will DHB funding and resources be able to keep up with demand?
For many health conditions, we're told early diagnosis is key to the success of treatment. But it's often difficult for a doctor to diagnose the severity of a health complication in its early stages, as they can be working with limited information, based on visual and reported symptoms. And long waiting times add further risk because things can change in your body before you get seen.
For diagnosis, doctors typically will refer you for further testing or follow-up treatment. This is where things can go wrong, as at this point you can get put on a public hospital waiting list for treatment or tests. If you're able to access private health treatment through your insurer, and you choose the right health insurance cover, you could get treated much sooner.
We specialise in finding the right insurer at the lowest market prices, tailored to your specific needs. This is all free to you – there are no hidden fees and neither we or any recommended policy providers add any extra costs.
2. Better treatment & options
Choosing the right health insurance cover means, depending on your individual policy and level of cover, you can claim for up to 100% of the costs for things like private hospitalisation, treatments, tests, scans and non-funded drugs.
That last one is very important, because non-funded drugs are not covered under most policies. Non-funded drugs are simply ones that the government does not subsidise under PHARMAC. The schedule of subsidised drugs can change but often new treatments don't get added for some time – over 800 days, on average – after they are approved here in New Zealand and already in use elsewhere.
Unfortunately, the PHARMAC non-funded list is a big one. A 2021 IQVIA report commissioned by Medicines New Zealand ranked New Zealand last for both access to publicly funded modern medicines and for pharmaceutical investment in these new prescription medications.
The report showed that of the 441 modern medicines introduced between January 2011 and December 2020 in OECD20 countries – which includes the USA, UK, Germany and Australia – only 34 (8%) were funded in New Zealand.
Not many policies cover non-funded medications. Only a handful of insurers even offer the cover. If you need access to expensive treatments, this is an important factor in your choice of providers.
How Policywise compares to other online quote providers
Policywise™
Other comparison sites
Traditional brokers
Banks
Insurers
(going direct)
Completely free service
Yes
Yes
Yes
Yes
Yes
Quotes from 5 of NZ's leading insurers
Yes
Some*
Some*
No*
No
Tailored recommendations fitted to your needs
Yes
No
Yes
No*
No
Detailed quote comparisons
Yes
No
Some*
No
No
Comparisons based on third-party research
Yes
Some
Yes
No
No
Fast & efficient process
Yes
Yes
Some*
Yes
Some
Independent claims support & advocacy
Yes
Some
Yes
No
No*
Laser-focused on health
Yes
Yes
Some*
No
Yes*
Experts at negotiating pre-existing conditions
Yes
Some
Some
No
No
Help you review your existing cover
Yes
No
Yes
No
No
Avoid policies that make claiming hard
Yes
Yes
Yes
No
Some
Ongoing support
Yes
Yes
Yes
Yes
Yes
Nicest team in New Zealand
Yes
No
No
No
No
Benefits of private health insurance in New Zealand
New Zealand has an accessible public health system for providing acute care. The system also provides public hospital services and subsidises several prescription drugs.
But for Kiwis who need non-emergency care such as diagnostic tests and surgeries it can take a year or more to get the treatment they need. In some cases, patients are declined treatment to prioritise other cases on what can be very long waiting lists.
Rising drug and treatment costs can add further stress for patients who struggle to cover the price of access to non-subsidised medications and procedures.
Private Treatment Costs in NZ

Cancer Treatments & Non-PHARMAC Funded Drugs

Cost (NZD)

Chemotherapy

Eculizumab (Soliris)
Pralatrexate (Folotyn)
Trastuzumab emtansine (Kadcyla)




Over $1 million/year

$1.2 million/year

$72,000/year

Immunotherapy

Naxitamab-gqgk (Danyelza)
Ipilimumab (Yervoy)
Pembrolizumab (Keytruda)




$1.4 million/year

$150,000 for four doses

Around $8,000/dose, taken every three weeks; capped at $60,000 under the manufacturer's cost-share program

Onasemnogene abeparvovec-xioi (Zolgensma; for spinal muscular atrophy)

$3.1 million/dose

Lonafarnib (Zokinvy; for Hutchinson-Gilford progeria syndrome)

$1.5 million/year

Nusinersen (Spinraza; for spinal muscular atrophy)

$1.16 million/year plus one injection every four months (about $125,000 per injection)

Elexacaftor/tezacaftor/ivacaftor (Trikafta; for cystic fibrosis)

Close to $500,000/year

Lung cancer treatment

Up to $200,000

Metastatic melanoma treatment

Up to $200,000

Targeted therapy




$132,000/year

Radiotherapy

Up to $55,000

Hospital Treatments

Cost (NZD)

Radical neck dissection

Up to $170,000

Spinal surgery

Up to $150,000

Mastectomy with breast reconstruction

Up to $100,000

Heart valve replacement

Up to $85,000

Bowel resection

Up to $60,000

Hip replacement

Up to $40,000

Robotic prostatectomy

Up to $35,000

Sinus surgery

Up to $33,500

Total knee joint replacement

Up to $28,000

Hysterectomy

Up to $25,000

Varicose veins treatment

Up to $10,500

Wisdom teeth extraction

Up to $5,800

Cataract surgery

Up to $4,900

Grommet insertion

Up to $3,500

Diagnostic Tests & Outpatient Treatments

Cost (NZD)

Colonoscopy

Up to $3,200

PET scan

Up to $3,200

MRI scan

Up to $3,000

CT scan

Up to $1,700

Ultrasound

Up to $1,500

GP minor surgery

Up to $400

Specialist consultation

Up to $280

Everyday Treatment

Cost (NZD)

Dental

Up to $400

Optical

Up to $400

Mental health consultation

Up to $255

Acupuncture

Up to $80

Physiotherapy

Up to $70

GP consultation

Up to $60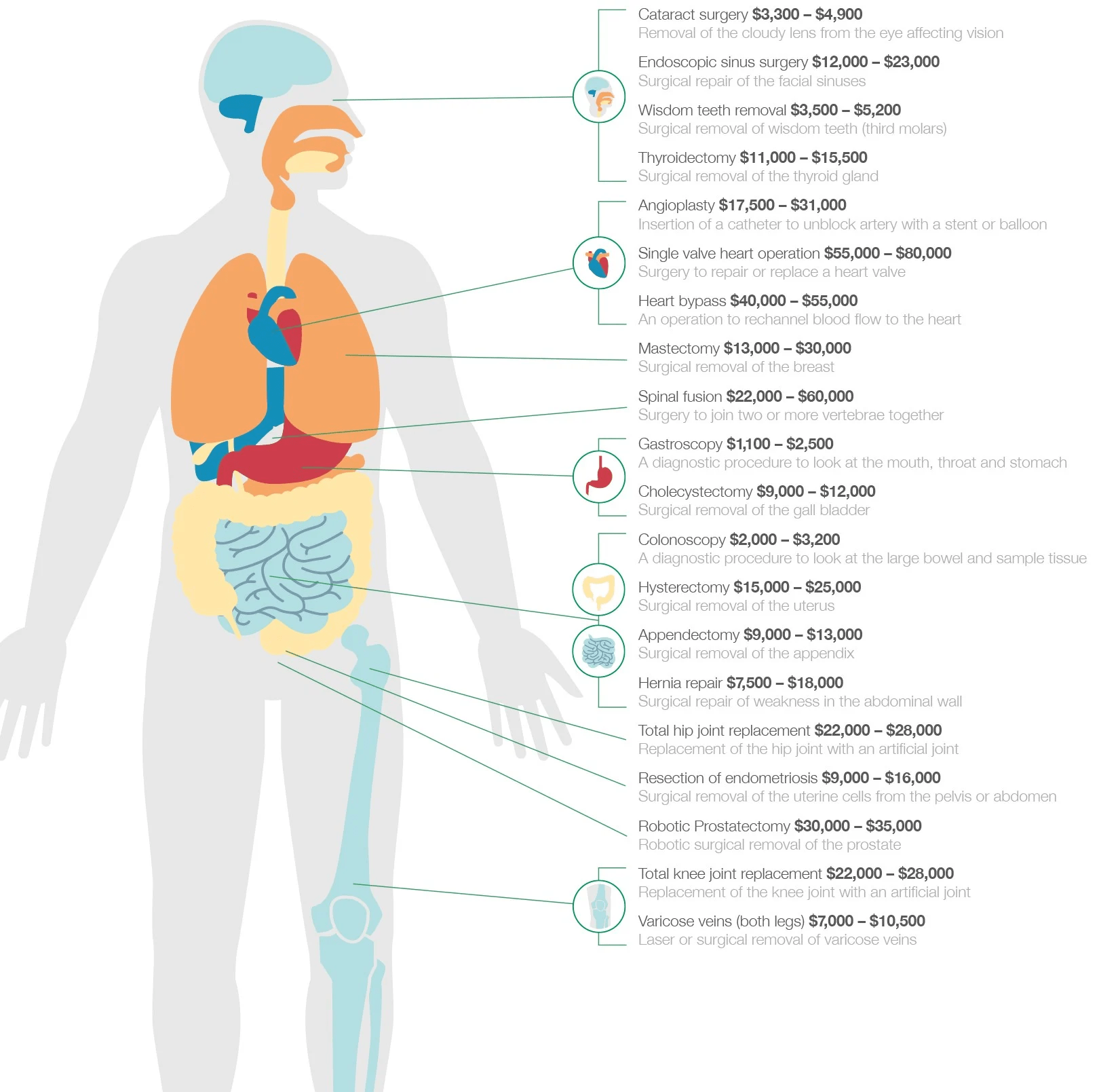 Compiled by nib from claim statistics for October 2020 to February 2021. This is an illustration of costs you could expect to pay in a private hospital without health insurance. It is not a representation of conditions covered on your policy or the amount that would be paid by an insurer in the event of a claim.
Private health insurance offers Kiwis the following benefits:
Shorter wait times and faster access to treatment, diagnostics and preventative care
Under the public health system, patients may have to wait over a year – and for some surgeries, a lot longer – as demand for services continues to outstretch capacity. Health insurance helps Kiwis pay for consultations and treatment in private hospitals, where waiting times are much shorter.

Coverage for non-funded drugs

Health insurers offer coverage for medications not funded by PHARMAC, including newer cancer treatments that can cost up to $150,000 a month.
Less financial stress
Many patients find themselves getting into debt or dipping into savings to pay for surgeries and medications. Health cover lessens the financial burden, allowing more focus on recovery and quality time.
Greater flexibility
Health insurance can give patients access to more options and possible locations for consultation or surgery.
More peace of mind
Waiting for tests and treatments, dealing with lost income and worrying about medical bills all add to stress while sick. Health insurance can take care of some of these issues and relieve pressure on patients going through the healthcare system as a result.
Compare health insurance quotes for:
| | | | | | |
| --- | --- | --- | --- | --- | --- |
| | | | | | |
| Individuals | Couples | Families | Children | Seniors | Businesses |
At Policywise, we help you find the right health insurance option for your needs. We make it easy for you to compare health insurance plans, including add-ons such as:
Dental and optical expenses
Specialists and tests
GP visits
You can
talk to a Policywise adviser
for more information on these plans and other health insurance options.
How Policywise works in 3 easy steps
Tell us about yourself

Click the button below to get started by entering some basic details. (Takes less than 30 seconds.)

Get your FREE, no-obligation quote comparison

We'll provide a straightforward run-down of your best options. Our report will show you the top health insurance policies that match your needs, with research and ratings for each insurance provider. You'll see a summary of quotes for the lowest market prices available for these policies. And we provide all this completely free to you, with no hidden costs – you'll pay the same premium as you would had you approached each insurer yourself and negotiated the best cover.

We take care of everything for you

If you like our recommendations, our experienced health insurance heroes will set up everything. Eliminate the pain of organising your health insurance – we handle all the time-consuming back-and-forth with the insurer on your behalf. This is FREE for you because the insurer you choose pays our fees.
FAQs
Who can get private health insurance coverage?

Anyone who is a New Zealand citizen or a permanent resident can get covered.
How much will it cost me to get health insurance in New Zealand?

The insurance premium depends on several factors: your age, gender, smoking status, excess and additional options.
Will it cost me money to get your expert advice and assistance?

Not at all. Our expert advice and assistance are free. The price we quote you for coverage is the same price you'd get if you went to each insurer directly.
Does the quoted health insurance premium include GST?

Yes, all quotes include GST.
Will my premiums increase each year?

Yes. Health insurance premiums are affected by your age, the amount of claims made in a given year, and medical inflation (as new and more advanced treatments become available, health costs usually increase).
What are my payment options?

Most insurers accept direct debit and credit cards. You can also choose your payment frequency. You can opt to pay weekly, fortnightly, monthly, quarterly or yearly. Most people choose fortnightly, but you can choose whichever suits you best.
When will my cover start?

Your cover starts on the date you choose.
What is a policy owner?

As the term implies, he/she/they own the policy and can make decisions and changes to the policy. The policy owner is also responsible for paying the premiums. In some cases, the policy owner may not be the same person covered by the insurance. For example, you can be the policy owner for your child's insurance.
What is "excess"?

Excess is the amount deducted from eligible claim payments for each insured person from the policy commencement date (as applicable) until the excess amount is reached. It is applied to each insured person every policy year. For example, if your claim is $5,000 and your excess is $250, you'll pay $250 and the insurer pays the rest.
What are "exclusions"?

Exclusions refer to any items not covered by your policy. Some exclusions are built into the policy. For example, health insurance plans do not cover cosmetic surgery. Some pre-existing health issues are often "excluded" from a policy. This means that the insurer won't pay for investigations or treatment relating to them.
Is pregnancy covered?

Most providers will not cover you in this area if you are already pregnant. Many may not provide cover for fertility treatment. A few plans do offer cover for pregnancy and birth such as an obstetrician benefit. If you are interested in this coverage, get in touch with one of our advisers for more information.
Do health insurance plans cover pre-existing conditions?

As a general rule, health insurers don't cover pre-existing conditions. However, there are exceptions, because insurers assess medical conditions differently. This is why your Policywise adviser will ask you about pre-existing conditions. It lets us advise you on which policy will offer the best cover for your individual needs.
What happens if I don't pay my premiums on time?

Usually, insurers will give you up to three months to bring your premium payments up to date. After this period, your policy will be cancelled.
Do I need to provide my health history?

Yes. It is advisable for you to declare all health history information you are aware of during the application process. Further information may be required from you or your doctor if necessary.
Does my smoking status affect my health insurance?

Yes. Those who have smoked within the past 12 months usually attract higher premiums. But don't worry, if you decide to stop smoking just let us know and we'll help you get lower premiums.
Do health insurers offer money-back guarantees?

Yes. All insurers have a 14-day "free look" period. Upon receiving your policy document, you have up to 14 calendar days to cancel it and get an insurance premium refund.
Do I need to update you on changes in my circumstances?

Yes. Please contact us so we can update the insurer as well.
How do I file a claim?

You can send a claim directly to the insurer, or you can file it through us and we will contact the insurer for you and help you negotiate claims.
I'm not satisfied with my existing cover. Can you help me look for a better one?

Definitely. We specialise in comparing multiple health insurance plans and providers. Just let us know what your existing cover involves, and we'll find a plan that's a better fit for your circumstances.
Can I cancel my cover anytime?

Yes, you can cancel your cover whenever you want. However, we strongly recommend that you keep some form of insurance cover for your own protection or your family's well-being. We can help you to find a better fit if your circumstances have changed.
What if I have other questions or concerns that are not listed here?

That's not a problem. Just chat with us or book a call with our health insurance experts.
Click the button to learn more and get protected:
Policywise tells you which health insurance best matches your circumstances, 100% free. Talk to one of our insurance advisers to find out which health insurance is best for your circumstances.